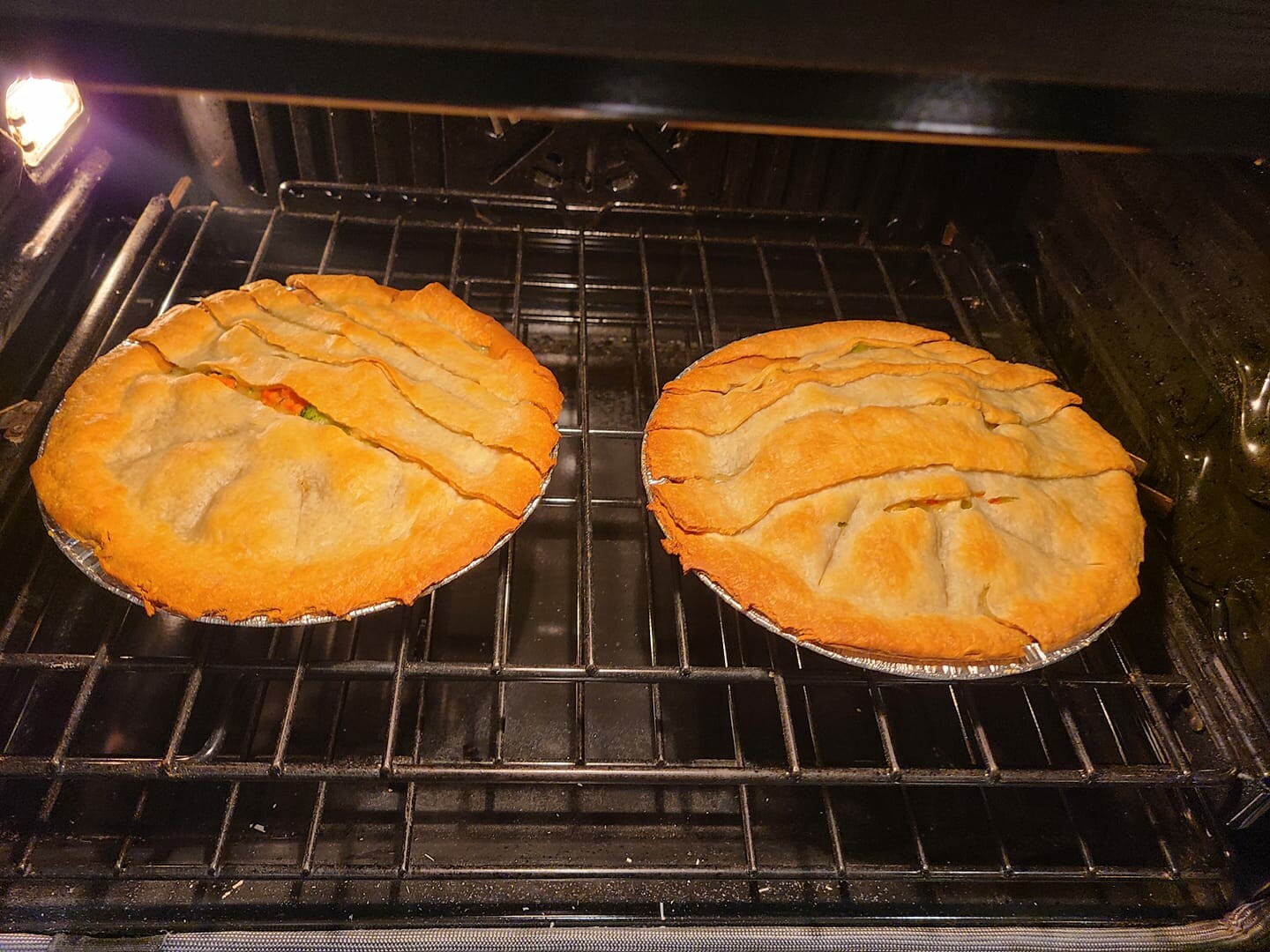 I LOVE chicken pot pie and have missed it after going mostly gluten and dairy free, so I made my own recipe and it was AMAZING if I do say so myself! The best part is the kids loved it too!
Prep Time: 10 Min
Cook Time: 30 Min
Yeild: 2 Pot Pies
Note: Season to taste, measurements are approximate. I am not a professional food blogger so please let me know if you enjoy the outcome!
Ingredients:
2 Frozen Pie Crusts (Gluten Free If Needed)
2 Large Chicken Breasts Diced
2 Medium Idaho Gold Potatoes
1/2 Bag Frozen Broccoli Chopped
1 Cup Carrots Chopped into 1/2 inch pieces
3 Cups Chicken Bone Broth
1/2 Cup Flour (I use gluten free flour)
1/2 Cup Coconut Milk (Dairy Free) or Whole Milk
2 tsp Grass-fed Butter (I use Kerrygold Brand)
2 tsp Oregano
2 tsp Thyme
Salt and pepper to taste
Method:
Preheat oven to 400 or see directions on the frozen pie crust and follow accordingly to crisp the crust.
Bring a large pot of salted water to boil.
While waiting for the crusts to crisp and water to boil, dice chicken, potatoes, broccoli and carrots keeping each separate from one another.
Boil the potatoes for about 5 minutes or until slightly tender.
Check the pie crust in the oven and remove when it reaches desired crispness.
While the potatoes are boiling...in a separate pot bring the chicken bone broth to a boil then add milk of choice and slowly whisk in flour a little at a time until I reach the desired consistency. Add in oregano, thyme, salt and pepper to taste. (I prefer fresh cracked pepper, fresh herbs and pink Himalayan salt or sea salt) Set aside once desired consistency is reached.
Add broccoli and carrots to the boiling water with the potatoes for another 3 to 5 minutes or until the potatoes are fork tender. Drain pot leaving veggies in the pot.
Heat butter over medium heat in a skillet. Sauté chicken till fully cooked in butter and season with salt, pepper, thyme and oregano to taste.
Combine chicken, gravy, potatoes and vegetables in a large pot.
Fill two pie crusts with the mixture.
Top with pie crust in strips one way only slightly overlapping.
Bake for 20 minutes or until crust reaches desired crispness.
Remove from oven, dig in!!